Obama Wins! – Obama's re-election puts 'forward' to the test
CNN) — Democrats are collecting spoils beyond what many predicted, Republicans are licking wounds after a bruising battle, and the country is waking up to the mix of euphoric celebration and bitter disappointment that accompanies the long-awaited end of the election.
But in the lightning speed world of today's politics, the hours since President Barack Obama's re-election victory have allowed the conversation to shift — from what happened to what's next.
"Tonight you voted for action, not politics as usual," Obama said in his rousing victory speech after winning all or virtually all of the key swing states — only Florida remains unknown — in a sweeping electoral victory and decisive popular win.
"You elected us to focus on your jobs, not ours. And in the coming weeks and months, I am looking forward to reaching out and working with leaders of both parties to meet the challenges we can only solve together. Reducing our deficit. Reforming our tax code. Fixing our immigration system. Freeing ourselves from foreign oil. We've got more work to do."
Mitt Romney, absorbing defeat after a historically expensive race on both sides, issued a similar call in his concession speech. "The nation, as you know, is at a critical point. At a time like this, we can't risk partisan bickering and political posturing. Our leaders have to reach across the aisle to do the people's work."
These are the calls and promises Americans are accustomed to, with far too little action materializing after the grand promises. Skepticism has become the legitimate knee-jerk reaction for many. But in this case, the country could be in for a pleasant surprise.
Former President Bill Clinton predicted weeks ago that an Obama victory would be the key to ending the gridlock in Washington.
Every administration needs "an action-forcing event," he told CNN.
"I believe the election will be that event. I expect the president to win. And I think if he does, after this happens, then you will see the logjam begin to break."
Republican strategist Ana Navarro, a CNN contributor, echoed that message on CNN Wednesday morning. "President Obama's re-election does two things. It frees President Obama to be able to work with the Republican Congress, and it frees the Republican Congress to be able to work with President Obama."
Tuesday's election left Republicans in control of the House and Democrats in charge of the Senate.
But the political winds have shifted. With no Obama re-election battle looming, there isn't the same incentive for each side to demonize the other.
Whether there is a newfound ability to cooperate will be put to the test just about immediately. The so-called "fiscal cliff" requires a solution by the end of the year. If left in place, the cliff — a combination of tax hikes and mandated across-the-board spending cuts — would lead to the biggest single-year drop in the annual deficit as a percent of the economy since 1969.
And a critical voice in that debate will be Rep. Paul Ryan, Romney's running mate and chairman of the House Budget Committee.
He and Obama slammed each other's economic policies repeatedly throughout the campaign. Each has staunch supporters. Now comes the search for middle ground.
House Speaker John Boehner vowed last night that his side will be part of the effort to find one. But he also signaled a hard line.
"The American people re-elected the president, and re-elected our majority in the House," said Boehner, R-Ohio. "If there is a mandate, it is a mandate for both parties to find common ground and take steps together to help our economy grow and create jobs, which is critical to solving our debt."
The loss is stinging to Republicans, who have taken on Obama throughout his time in office. Rhetoric from both sides has often reached a fever pitch.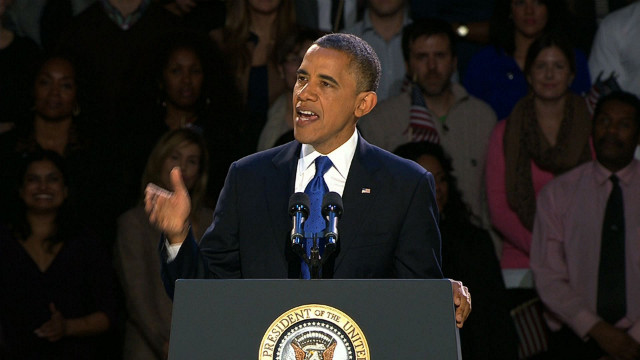 A Divided U.S. Gives Obama More Time
Barack Hussein Obama was re-elected president of the United States on Tuesday, overcoming powerful economic headwinds, a lock-step resistance to his agenda by Republicans in Congress and an unprecedented torrent of advertising as a divided nation voted to give him more time.
In defeating Mitt Romney, the president carried Colorado, Iowa, Ohio, New Hampshire, Virginia and Wisconsin, a near sweep of the battleground states, and was holding a narrow advantage in Florida. The path to victory for Mr. Romney narrowed as the night wore along, with Mr. Obama winning at least 303 electoral votes.
A cheer of jubilation sounded at the Obama campaign headquarters in Chicago when the television networks began projecting him as the winner at 11:20 p.m., even as the ballots were still being counted in many states where voters had waited in line well into the night. The victory was far narrower than his historic election four years ago, but it was no less dramatic.
"Tonight in this election, you, the American people, reminded us that while our road has been hard, while our journey has been long, we have picked ourselves up, we have fought our way back," Mr. Obama told his supporters early Wednesday. "We know in our hearts that for the United States of America, the best is yet to come."
Mr. Obama's re-election extended his place in history, carrying the tenure of the nation's first black president into a second term. His path followed a pattern that has been an arc to his political career: faltering when he seemed to be at his strongest — the period before his first debate with Mr. Romney — before he redoubled his efforts to lift himself and his supporters to victory.
The evening was not without the drama that has come to mark so many recent elections: For more than 90 minutes after the networks projected Mr. Obama as the winner, Mr. Romney held off calling him to concede. And as the president waited to declare victory in Chicago, Mr. Romney's aides were prepared to head to the airport, suitcases packed, potentially to contest several close results.
But as it became increasingly clear that no amount of contesting would bring him victory, he called Mr. Obama to concede shortly before 1 a.m.
"I wish all of them well, but particularly the president, the first lady and their daughters," Mr. Romney told his supporters in Boston. "This is a time of great challenges for America, and I pray that the president will be successful in guiding our nation."
Hispanics made up an important part of Mr. Obama's winning coalition, preliminary exit poll data showed. And before the night was through, there were already recriminations from Republican moderates who said Mr. Romney had gone too far during the primaries in his statements against those here illegally, including his promise that his get-tough policies would cause some to "self-deport."
Mr. Obama, 51, faces governing in a deeply divided country and a partisan-rich capital, where Republicans retained their majority in the House and Democrats kept their control of the Senate. His re-election offers him a second chance that will quickly be tested, given the rapidly escalating fiscal showdown.